Hardwood Fitting
Wood Floor Fitting, Installation and Preparation Service
At BP Carpets we are passionate about wood flooring. Our company works closely with wood flooring manufacturers in UK and Europe ensuring we bring you the best quality flooring at truly competitive prices. We offer a FREE wood flooring survey and estimating service throughout London while giving you genuinely impartial advice. When it comes to laying or installing wood flooring, our passion and enthusiasm is second to none. With BP Carpets, no job is too big or too small for our wood floor installers. Collectively, our team has over 75 years experience in providing the perfect floor finish in domestic and commercial wood floors.
Our friendly fitting team is vastly experienced in fitting wooden floors in a wide range of properties including: London penthouse flats, suburban houses, cottages, barn conversions, schools, churches, offices, pubs, restaurants and other public places.
FITTING YOUR FLOOR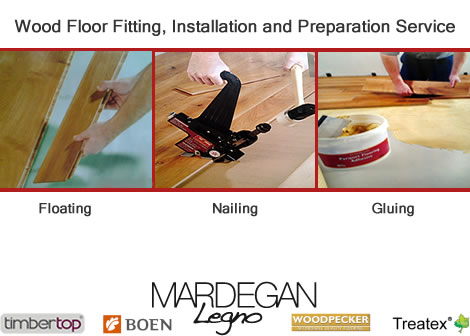 The installation method used will depend on a range of factors including but not limited to: Type of joint, type of sub-floor, moisture content, and underfloor heating. Wood floors can be installed using floated method, Secret Nailing, or Gluing. In general, solid wood should be glued or installed using secret-nailing, whilst engineered wood are typically floated. The presence of underfloor heating limits the type of wood floor that can be installed, and also the installation method. Engineered wood above 15mm will generally require gluing down if fitted over underfloor heating.
A very important aspect of floor installation is the expansion gap. Wood being a natural product expands and contract with changes in humidity. A space must be allowed for adequate expansion otherwise the floor will bow-out at some point. An expansion gap of between 10mm and 14mm is allowed around the perimeter of the installed floor. This can be covered either by fitting the skirting on top of the flooring, or by using scotia. Our popular egineered floors are displayed below or you can browse our full wood collection by clicking the link below.
.