Brands & More
We can supply all types of carpets. Below are some of our preferred manufacturers.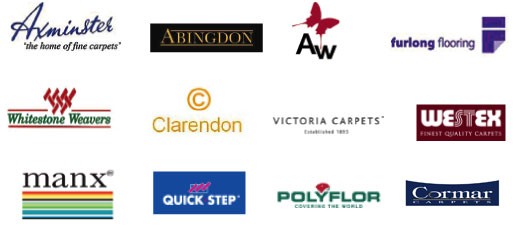 Alternative Flooring
Abingdon Flooring
Adam Carpets
Anglo Recycling
Artisan
Associated Weavers
Axminster Carpets

Balta Carpets
Brintons
Brockway Carpets
Bronte Carpets
Clarendon Carpets
Cavalier Carpets
Cormar Carpets
Crucial Trading

Daisy Alexandra Subert
Edel Telenzo Carpets
Flock
Furlong Flooring
Gaskell Wool Rich
Grosvenor Wilton Company
Heuga
Hugh Mackay Carpets


Interfloor
ITC (Natural Luxury Flooring)

Kersaint Cobb
Kingsmead Carpets

Lano Carpets
Louis de Poortere

Manx Tomkinson Carpets
Mohawk

Elements London
Penthouse Carpets
Pownall Carpets

Rama Carpets (Nourison)
Relic Collection
Riviera Home
Roger Oates

Stairrods (UK) Ltd
Thomas Witter

Ulster Carpets

Victoria Carpets
Vorwerk

Westex Carpets
Weston Hammer
Whitestone Weavers
Woodward Grosvenor
WONZ (Laneve)
.