It is time you considered Cork Flooring
8 Mar 2021
Cork flooring is perhaps one of Nature's greenest miracle floors. Made from all natural and renewable components, cork floors are highly versatile, beautiful, and sustainable. When it comes to pricing, floated cork floors are comparable to engineered or hardwood floors, while cork tiles can be significantly cheaper. The most beautiful cost savings of cork tiles is it is a DIY floor, and anyone can fit it, and it is easy to maintain and very long lasting.
The number #1 reason people like cork flooring is because it feels soft but firm to the feet and is very quiet. The minute you step onto a cork floor your knees and back relax. You'll love the feeling of cork flooring against your body and the quiet insulating qualities it provides whether you stand in the kitchen for hours, practice yoga in your rec room, living room, or bedroom, or just want to sit quietly in your office.
Fact: Cork can last for 50+ years in most residential and light commercial applications.
So what makes cork so special?
Cork flooring benefits include:
Highly compressible and resilient
Excellent thermal and sound insulator
Naturally resistant to mold and mildew
Warm to the touch
Naturally resistant to fire
No toxic gases released when cork burns
Hypoallergenic and insect-resistant
Stable in various temperatures
It is a renewable resource that is biodegradable
Extremely versatile with not just many, but hundreds of uses
How is Cork Used?
There are hundreds of different uses for cork such as bottle stoppers, floats for fishing nets, women's purses, soles of shoes and sandals, and even bathtubs. It is also used as insulation between the walls and used as cladding on the outside of buildings in Europe. In 1891 John Smith, discovered that it was possible to produce agglomerated cork, opening a new range of applications such as wall tile, flooring, and underlayment. The agglomeration process involves gluing small pieces of ground up cork together to form larger pieces in various shapes and sizes.
Cork flooring has been popular in Europe since the turn of the 20th century and can be found in many prestigious locations such as the Library of Congress, the Mayo Clinic and Plummer Building, the offices of several Fortune 500 companies, numerous churches and museums, and the Frank Lloyd Wright Fallingwater residence.
Recently, with improved technology, an array of new patterns and colours have become available to meet the demands of today's design trends.
How is Cork Flooring Made?
There are 3 types of cork flooring:
Glue-down cork tiles - 2 layers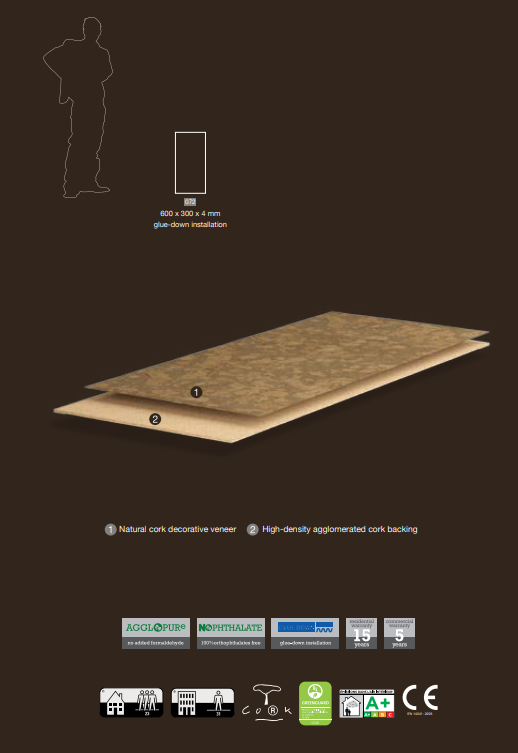 Originally, cork flooring was made in the form of a ¼" thick tile: 8" x 8" or 12" x 12". These tiles were made of solid cork and glued down to the subfloor with adhesive. They were also glued to walls for decoration. The finish was mainly oil and wax. Many people report that these original tiles are still going strong even after 50 years or more! Others have complained that the edges can curl up or dry out, become brittle and break off.
Since 2000, cork technology has advanced considerably as a resilient floor covering. Not only has the finish improved, but the way it's installed has also changed significantly. Today, most cork flooring comes in two basic forms: engineered cork floors, and waterproof cork floors.
Engineered Cork Floors - 3 layers
Top layer - veneered cork (1/16" to 1/8")
Middle layer - high-density fibreboard (1/4")
Bottom layer - agglomerated cork (1/16")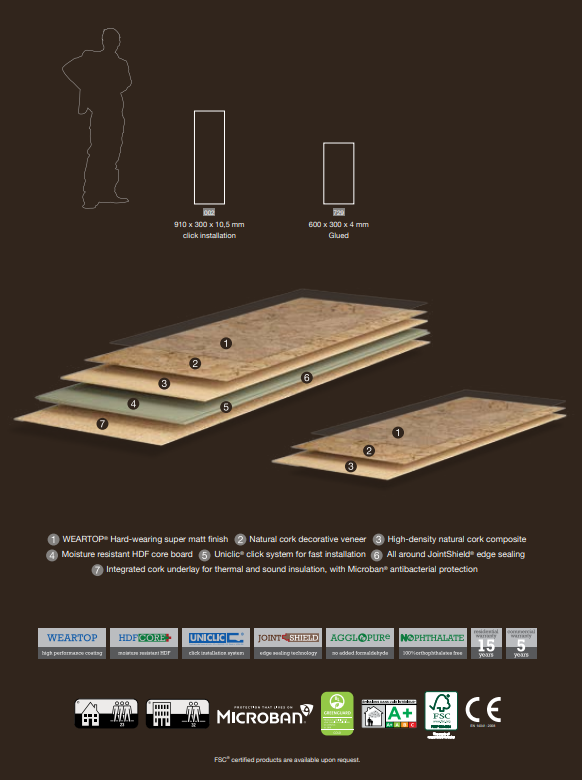 The Engineered Cork Floors come in the dimensions 12" wide x 36" long or 5" wide x 48" long, in dozens of colours and styles that can accentuate the natural patterns and textures of cork.
Most recently, waterproof cork flooring has entered the market in the form of a floating floor or glued down for high traffic or high moisture areas.
Waterproof Cork Floors - 3 layers
Top layer - veneer layer 1/128" either UV cured acrylic/urethane/ceramic or PET finish
Middle layer - agglomerated cork impregnated with HDPE food-grade sealer (to replace the high-density fibreboard)
Bottom layer - 1/32" agglomerated cork
The Waterproof Cork Floors come in the dimensions 7 1/2" wide x 48" long in dozens of beautiful cork and beautiful wood look styles.
PROS and CONS: Engineered Floating Cork Floors
Engineered floating cork floors have literally taken over the cork flooring market in the last 15 years for several good reasons:
PROS:
Easy DIY click installation - cut with a chop saw, skil saw or jigsaw
No glue required - no nasty fumes or expense
Can be applied directly over most existing flooring below, at, or above grade. (see installation guidelines)
Faster installation than glue-down tiles or most hardwood flooring
Wide range of unique styles and colours to choose from
Very stable in most climates
Durable long-lasting finishes require less maintenance
No initial sealing required but an additional finish can be applied later
Lifetime warranties on structure, 15 + years on the wear surface
CONS:
Thicker panels may require thresholds in between rooms
Subject to buckling if not enough space is left around the perimeter
The high-density fibreboard core is subject to expansion if pet urine, water or food gets between the panels
Subfloor preparation can be costly if not level
PROS and CONS: Waterproof Cork Floors
Waterproof cork flooring has disrupted the market recently by offering a more moisture-resistant floor without the high-density fibreboard in traditional cork flooring.
PROS:
Can be installed below, at, or above grade
Made without formaldehyde adhesives and emits zero VOCs
Must be glued down in damp areas such as basements, kitchens, bathrooms, and laundry rooms
Easier DIY floating installation–can be cut with a box cutter–no saws needed
Same thermal and acoustic insulating properties as traditional engineered
Beautiful realistic wood looking visuals as well as traditional cork visuals
Highly stable — less expansion and contraction space needed
No thresholds are needed for up to 3500 SF
Climate positive — carbon negative footprint
No padding/underlayment is required over plywood subfloors (see the installation guidelines for details)
Easy to replace if floated
Lifetime structural and 15 year wear warranty
CONS:
Wood look is 3D printed which is harder to repair
High temperatures, humidity, or dryness can cause separation unless glued down
Harder to replace if glued down
Numerous colours and designs:
Traditionally, all cork flooring was one natural colour of light tan, with darker elements throughout. Today, cork flooring is made in numerous colours that involve staining the surface layer or 3D printing on the waterproof cork.
The natural cork colours (i.e., not stained) are by far the most popular because:
The warm hues blend with most woodwork, cabinetry, and furniture
It hides dirt extremely well
It hides the seams extremely well
Scratch marks don't show as much due to the through-body colour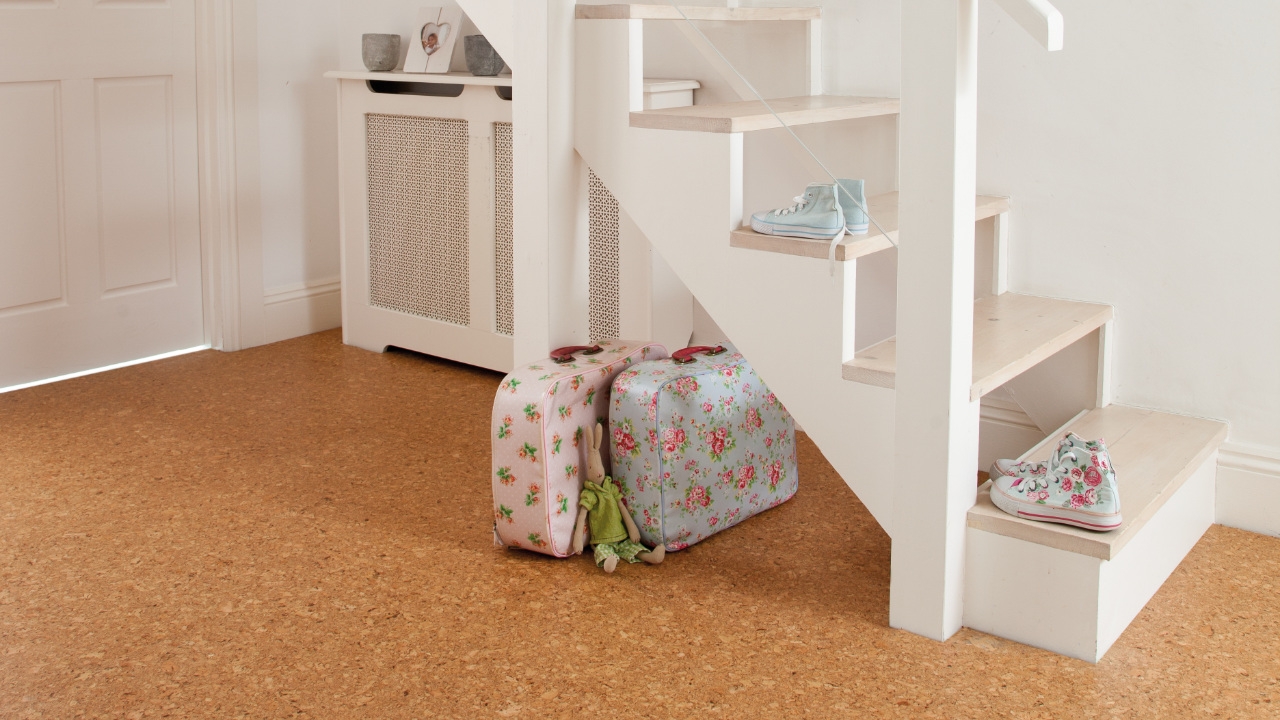 Which design is best?
When you begin looking at all the intricate designs it can be overwhelming. Some designs are busy, some are quiet, some are plain, some resemble wood or travertine, and some melt into the room beautifully.
Looking at small samples is helpful, but you need a good imagination to envision how they will look in your home. Generally, we've found that the colour is more important than the design because the design tends to blend into the colour, especially when seen at broad angles and in dim light. If a particular wild design excites you, then go for it. If you're conservative, however, then pick something neutral and quiet, and you will be safe.
It also depends on the lighting and what angle you're viewing it from. In our experience, the natural cork colour (unstained), along with almost any style, works very well in most homes. Check out our samples to see how they appear in your own home's lighting to see how the pattern and colour will ultimately appear.
Cork underlayment
Cork has also become a popular underlayment to reduce noise and to improve thermal efficiency. Cork underlayment generally comes in 1/8" to 1/4" thick rolls of 200 SF/roll. Cork underlayment has become the product of choice beneath ceramic tile, hardwood flooring, carpeting, and other solid surface floors, mainly in apartments and condos.
How Long is Cork Warranted?
Most residential and commercial warranties offered by manufacturers are for structural integrity which means the top, middle, and bottom layers won't delaminate over the life of the product. Such events are extremely rare.
A finish warranty covers any defect in the finish such as peeling, pitting, or factory markings from rollers. Most cork brands warrant their products for 10-25 years. Commercial warranties are usually much less, usually around 5-10 years.
Keep in mind, if you have large dogs or kids with skateboards, a residential or a commercial warranty will not cover normal wear and tear or abuse. In general, deep scratches and gouges can be repaired with wood putty, and the natural colour variances hide them very well. The same holds for hiding dirt.
Warranties for waterproof cork (and for all other types of waterproof floors for that matter) do not cover damages caused by floods from overflowing sinks, dishwashers, laundry, or icemakers.
Bottom line: go for the best warranty but understand that all flooring warranties only cover manufacturing defects and never pay for removal or re-installation costs unless you can prove negligence on the part of the manufacturer.
Installation
Glue-Down cork tiles (solid 1/4" cork) are glued to a perfectly smooth level subfloor (for glue-down tile cork flooring we recommend Wakol D 3540 adhesive). Floating cork floors (planks, squares, large or narrow tiles) can be installed over most wood or concrete subfloors. Most brands work in the same manner. They can even be installed on top of existing vinyl or laminate flooring. (Always refer to the manufacturer's installation guidelines). Waterproof cork in high traffic/high moisture areas should be glued down using Wakol D 3540 adhesive
The edges of cork floating flooring are designed to click together; no glue is required. With only a few tools required, installation is relatively easy. Small rooms can be completed within a few hours.
Consider a professional if:
you're not handy with tools
you want a flawless looking floor
your subfloors are uneven and need prep work
you don't have the time
Consider doing it yourself if:
you have some basic skills and own some tools
your subfloors are relatively smooth and level
you have time to do this properly
you need to save money
How much extra cork flooring should I order?
In general, 10% extra. 5% is for waste which will always be the case and 5% is for the future in case of emergencies where replacements are needed. The latter is for insurance in case that colour or style is no longer available in 5 years.
While cost may be a factor, getting an extra box or two is always a prudent idea. This is true for all flooring.
Beautiful, soft, warm, non-toxic, renewable, insulating, and sustainable, cork is clearly one of the best green floors available. Give it a try in one room and you'll see why.